The Rubberised Level Crossing System was first introduced in India by Metalastik Manufacturing Company Pvt. Ltd. in 2005 in Eastern Railway successfully.
It is a proven technology to join the rail and road interfaces by rubber pads making a flexible smooth vehicular road surface on the rail track. This crossing system replaces bitumen or concrete roads with several advantages like operational flexibility, maintenance free long life, easy access for track maintenance etc.
The rubberised level crossing system has a successful long history of few decades in the foreign railways. In India Metalastik has introduced the design and technology for this system which has a track performance of more than 40 years in foreign railways.
However, The MMC technology for Crossing system adopted in India differs a little from being used in abroad looking towards the Indian climates, track conditions, load factors, availability of raw material and pricing.
Scope of Work
Rubberised level crossing system covers two sectors

Manufacturing and supply of rubber pads and allied components.
Installation of rubber pad at the track.

The rubberised level crossing system can be used in all crossings in India and abroad having any kind of sleeper. Generally rubber pads sit on the sleeper surface along with rail and hence design of rubber pad will vary with sleeper design and type of rail.
The types of rubber crossings are to be classified as Pedestrian, Light duty, Heavy Duty and Super Heavy Duty considering vehicle load conditions and TVU.
We also manufacture specially designed system for use in high temperature applications like Torpedo Movement at 100ºC to 150ºC surface temperature.
The MMC rubberised level crossing system can be used at any climatic condition and all kinds of tracks across the globe.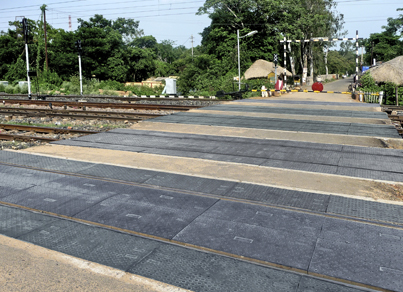 Why MMC Rubber Crossing System
MMC Crossing Parameters
| | |
| --- | --- |
| High Wear & Tear Properties | Manufactured out of virgin rubber. No scrap / recycled rubber is used. Hence it protects the pad from damage under streessful use. |
| Maintenance of Track | No maintenance is required for MMC Crossing System. Rather it allows smooth track maintenance. |
| Long Ageing Life | Rubber compound used in this system have long ageing life and able to withstand the wide range of Indian climatic conditions. |
| Easy Handling & Opening | Any pad can be lifted manually at any point of track by 3 persons for railway's maintenance. |
| Use of RCC Beam | RCC Beam is must to protect rubber pad and adjacent road. RCC beam helps the pads to be opened smoothly during machine packing in the track. Pad can also be lifted without disturbing adjacent road. |
| More compact End Clamping | End Pads are clamped in more compact manner. No projected or hanging parts are present. |
| Stability of the pads | 1200mm pad sits on three sleepers (two sleepers gap) making more stability of rubberised road surface. |
| Accepts overloading of truck | Rubber pads are capable to take overloading in Indian Road Conditions. |