Dimensional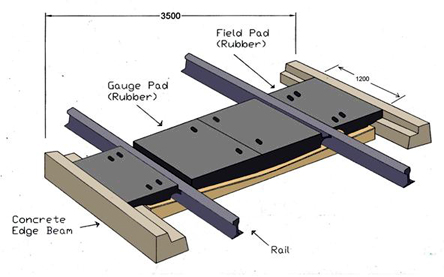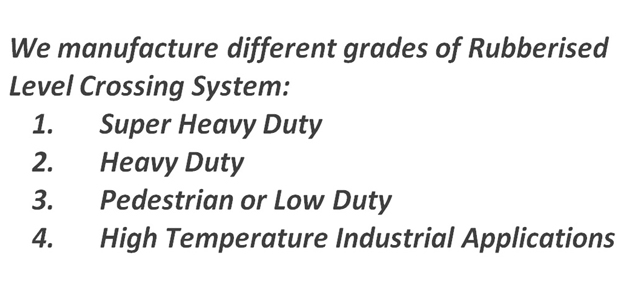 Sl No
Classification
Size of Each Pad(Nominal)Length x Width#
Area of the Rubberised Road
Placing Position
Quantity Reqd per Width Single Track*
01
Gauge Pad
1200 mm x 870 mm
3.5 Mtr Width x Length along the rail in multiple of 1.2 Mtr.
Inside rail
02 Nos
02
Field Pad
1200 mm x 745 mm
Outside rail
02 Nos
03
Concrete Edge Beam
2400 mm x 330 mm
Adjacent to sleeper end
As required
* Total quantity required depends on the length of track including safety distance. # Width given based on 60 Kg rail track
| Sl No | Description | Drawing No |
| --- | --- | --- |
| 1 | Assemble drawing No. | MMC/LCP/Assembly/001-004 |
| 2 | Rubberized crossing Surface | MMC/LCP/Rubber/001 |
| 3 | Rubber Pad for Level crossing System | MMC/LCP/Rubber/002 |
| 4 | Clamping Arrangement for Rubber crossing (Including Rubber Plug, Locking Inserts & End Clamp) | MMC/LCP/Rubber/003 |
| 5 | Concrete Edge Beam | MMC/LCP/Rubber/004 |
Minimum Track Requirement to install Rubber Crossing Pad
The following parameters are essential to follow during installation of MMC Crossing System
The concrete sleepers should be equally spaced apart.
The track should have proper alignment throughout the length.
The ballast should be filled in between sleepers upto to sleeper height.
The ballast should have good packing to avoid displacement of sleeper.
Screening (deep or shallow) of the track is advisable before installation of rubber pad
It is advisable not to use worn out sleeper or rail.
Any rail joint by welding or fishplate is not allowed inside the crossing area.
Manufacturing Technology
Rubber pads are manufactured from suitable blend of high grade VIRGIN natural and synthetic elastomers, fibres, protective agents, reinforcing fillers, stabilizer etc. to make the crossing system tough and able to work under severe atmospheric condition for several years.
The manufacturing process of MMC crossing pad differs from general rubber products in consideration with its unique compounding system, mixing in automated equipment, curing in specially designed high pressure two stage moulding machine and above all consistent control over them.
Every stage of manufacturing is monitored and controlled according to stipulated QC parameters.
Properties of Rubber Crossing System
Rubber properties
The physical and chemical properties of rubber meet the technical requirements given in the specification MMC/Spec/LCP/001. This requirements have been designed considering very tough conditions in Indian tracks on LC gates. However the properties can be modified according to the customer's requirements.
Load Bearing Capacity
The "MMC" rubber crossing system is capable to take continuous vehicle load for different classes of level crossings including National & State highways in all seasons. . Also it takes load as specified in IRC Class AA standard (IRC class AA loading consists of either a tracked vehicle of 70 tonnes or a wheeled vehicle of 40 tonnes).
Operation Regime on Indian Railways:
(a) Prescribed Axle load
| Sl. No | Type of traffic | Axle Load |
| --- | --- | --- |
| 1 | Goods Train | 25T |
| 2 | Passenger Train | 22T |
(b) Speed Criteria
| Sl. No | Type of traffic | Speed |
| --- | --- | --- |
| 1 | Goods Train | 150 kmph |
| 2 | Passenger Train | 200 kmph |
Environmental condition
Material should withstand the following environmental conditions under service.
Ambient temperature ranging (-) 15º C to (+) 55º C
Rail temperature ranging from (-) 20º C to (+) 75º C (Upto 150ºC for special high temperature applications.)
Relative Humidity range 100 %
Atmospheric condition: Very dusty, heavy fog and saline water.
Rainfall & fully continuous water logging
Electrified traction: Overhead electric (25KV AC or 1500 V DC)
Resistance to Chemicals
The "MMC" Crossing Road is resistant to the following chemicals coming in contact from leakage from running vehicles: Brake Fluid, Ethylene Glycol, Ammonia, Ethanol, Methanol, Glycerol, Hydrochloric Acid, Sulfuric Acid (30 %), Sodium Hydroxide (50 %), Salt Water, Rain Water.
The change in weight observed in these fluids after 72 hrs. at 50º C is max 0.80 %.
Maintenance of Rubber Crossing Road
No additional care to be taken for maintenance of rubber pads.
The wheel passing groove (checkrail) should be free from ballast. We have specially designed Check Rail cover to protect the groove from debris. Also it allows smooth passing of rail wheel at any speed.
Lifting and reinstallation of the pad, in any case, should be done by trained person.
Rubber Plug is one of the key components of this system. It is strongly recommended to use MMC branded new rubber Plug, if replacement is required.
Still in case of any difficulty it is advised to call MMC engineer.
Training of Manpower for Installation
Installation of rubberised level crossing pad on the track is an art and proper training to the people engaged in the installation is important. If installation of rubber pads and concrete beams are not upto the mark the performance may be affected. We provide regular training to our people for better installation with high accuracy.
However we have also scope to provide training to the railway people who will be responsible to open the track in future for their own maintenance purpose.
Technical Support
We register customer complaint and take actions with immediate effect.
We provide before and after sales support, feed back to customers, newsletters etc.
We organize seminars for the customers on the subject for exchange of views.
Safety & Precaution
MMC Crossing System ensures following Safety Factors
Pads are interconnected by proper locking system; hence no question of spring up of any pad at any train speed.
No check rail required, the provision of wheel passing arrangement is self designed.
Check Rail groove is permanent and no deformation of breakage takes place during service.
Viscous phase of rubber material absorbs generated vibration and reduces damage of adjacent road.
Smooth vehicular movement.
The wheel passing groove (check rail) should be free from ballast. We recommend to use MMC Check Rail Cover to protect the check rail groove from debris.
Scope of Work
Rubberised level crossing system covers two sectors

Manufacturing and supply of rubber pads and allied components.
Installation of rubber pad at the track.

The rubberised level crossing system can be used in all crossings in India and abroad having any kind of sleeper. Generally rubber pads sit on the sleeper surface along with rail and hence design of rubber pad will vary with sleeper design and type of rail.
The types of rubber crossings are to be classified as Pedestrian, Light duty, Heavy Duty and Super Heavy Duty considering vehicle load conditions and TVU.
We also manufacture specially designed system for use in high temperature applications like Torpedo Movement at 100ºC to 150ºC surface temperature.
The MMC rubberised level crossing system can be used at any climatic condition and all kinds of tracks across the globe.